The 2014 MVAS Speaker Series
Presented at the Frederick C. Smith Auditorium, Sinclair Community College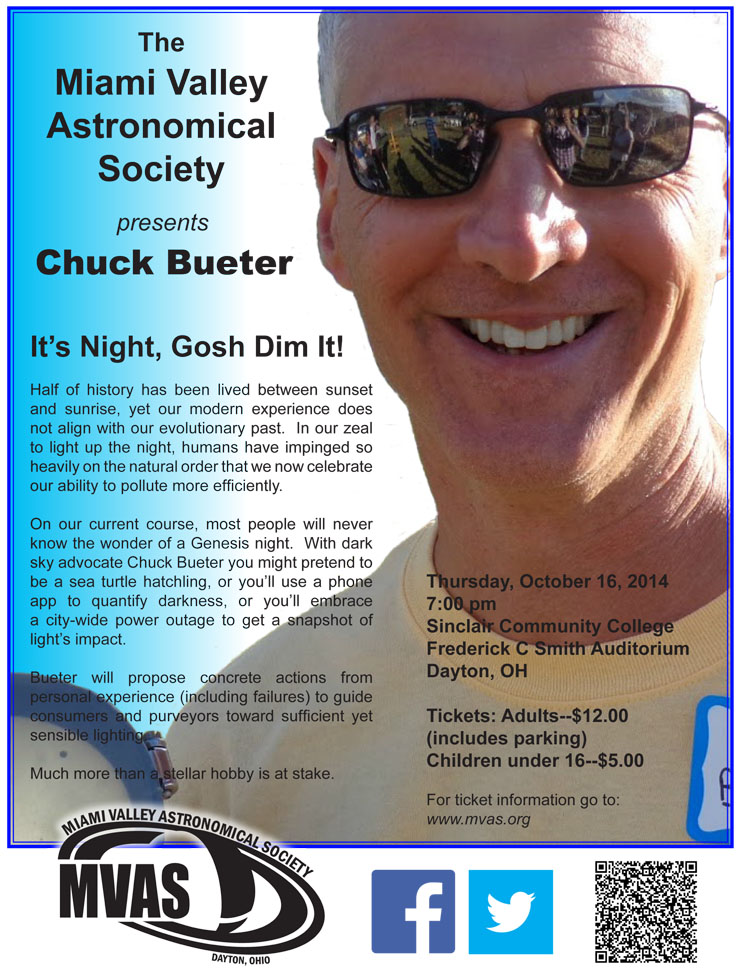 Chuck Bueter
Chuck Bueter
first came to appreciate the night sky while aboard freighters in the northern Great Lakes. In the 2009 International Year of Astronomy, he was an active member of the Dark Skies Awareness Working Group, during which he spearheaded the
Let There Be Night
program to raise community awareness of lighting issues. As an amateur astronomer and member of the planetarium community, he believes dedicated observers of the night are well positioned to advance significantly better lighting practices. Bueter is the director of the week-long
AstroCamp
for youths at YMCA Camp Eberhart, is the president of the Michiana Astronomical Society Inc, was the coordinator of the 2013 Comet Festival, and was an instrumental figured in promoting global education and public outreach for the 2004 and 2012 transits of Venus. He launched his astronomy avocation with the Paper Plate Education website in the early 1990s. In his free time he enjoys sailing on Lake Michigan, especially at night.
The Miami Valley Astronomical Society
The MVAS is known for its annual Apollo Rendezvous symposium whose emphasis and appeal is amateur astronomy. Yet our greatest effect on the community comes from our outreach activities where MVAS members relate their astronomical experiences and share their telescopes with thousands of the general public from the Miami Valley. Consistentaly we've heard requests for presentations of an astronomical or scientific nature but aimed at a broader audience, one that has appeal to the community at large. It's with these ideals we've started the Speaker Series, where noted speakers, distinguished in their respective fields of science, astronomy, and mathematics, can present these topics in a fun and approachable manner.
October 16, 2014 7:00 PM
Sinclair Community College
Room 150--Frederick C. Smith Auditorium
Building 12, North side
Tickets
Please fill out the form and mail back to the address on the form along with a check made payable to Miami Valley Astronomical Society. Tickets will be mailed to you and should arrive no later than one week prior to the event. Ticket orders received after October 7, 2014 will be available at Will Call, located at the Registration Desk outside Frederick C. Smith Auditorium.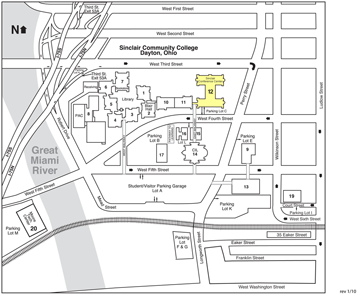 Directions
Sinclair Community College is located in downtown Dayton at 444 West Third Street, Dayton, Ohio, 45402 For detailed driving directions, refer to Sinclair's excellent page for Maps and Directions.
Parking
Parking is located beneath Building 12, labeled Parking Lot C and is entered from West Fourth Street. Parking is free with paid admission! Parking passes will be issued at the registration desk. Give your parking pass to the attendent when leaving the parking lot.